You've probably noticed the cost of your groceries going up in the last year, especially the prices of your favourite fruits and vegetables. We've all felt the impact of those changes – Kerry's family is no different.
Kerry is a mom of two – Jonah, who's in grade 4, and Sam, grade 6. Kerry is now paying more each month for the same groceries she's always bought, and that her kids love to eat. Earlier this year, Kerry lost her job and after a few months of searching found a new one – but the salary was much lower and she had depleted a good portion of her savings.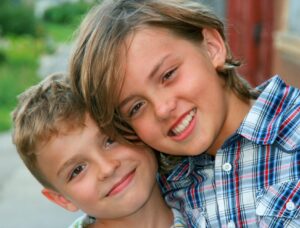 With this salary, Kerry's cut back on a lot of expenses, which has been hard – and one of those cuts was to her grocery budget. She's still able to send a sandwich to school for her kids, but most days, that's it. Kerry constantly worries about what the future holds for her family and the possibility that car trouble, home maintenance, or some other financial emergency will wipe her entire budget out.
Jonah and Sam's school cares for their family by providing fresh fruits and vegetables at school, provided by the BB4CK community. We know the value of ensuring that lunches for kids who would otherwise go without have lots of nutritious, filling food. When they get to school, Jonah and Sam eat the sandwich their Mom, Kerry, made with love at home, alongside the bright orange carrots, crunchy apples and juicy oranges people like you provided for them. These foods are so important for kids whose families, like Kerry's, are struggling to make ends meet.
The number of kids in need of lunches at school in Calgary has risen, alongside food prices, in the past few years. Today, there are more than twice as many children in need of healthy lunches or fresh lunch items at school each day than there were three years ago – and the BB4CK community works to respond to the needs of these kids each day.
This school year, the average lunch BB4CK provides to a hungry kid in our city will cost $2 to make and deliver. Rising food costs and a growing organization have contributed to this. We're extremely proud to be able to provide a healthy, filling lunch for just $2 – ensuring we continue to feed and care for hungry Calgary kids. Together, we will meet the goal of having no hungry kids at school this year.
This year, your support will ensure that every kid in our city has a healthy lunch at school. You can be part of the BB4CK community – volunteer, donate or hold a project that will make a lasting difference in the lives of Calgary families