Last month our Executive Director was invited to Prairie Waters Elementary School to speak about BB4CK with their students.
We wanted to share what one of the students wrote about Tanya's visit:
"Tanya Koshowski the Executive Director for Brown Bagging for Calgary's Kids came into our classroom, in March. She talked about what her organization does to help kids. When kids in Calgary do not have a lunch to eat their school contact BB4CK to ask them for help.
She told us a story about Lisa who did not have enough to eat. All she had was half an apple over two days! We were shocked that some kids do not have enough to eat and talked about how that can affect our learning.
During her visit, Tanya asked us the following question: "How many kids are hungry in Calgary?" We tried to guess; 500? 700? 1000? 4000? We all were surprised when she said that there are 4400 hungry children in Calgary. That is a big number of kids! We need food in order to be healthy and grow strong. Tanya explained that it is not only all about the food; it is about showing the kids that receive the lunches that someone cares about them. We think the people who make all those lunches and deliver them are amazing people!
"What is the benefit of kids receiving BB4CK lunches? Kids that are being fed show increased school participation, attendance rates, and grades, they feel better about themselves and have the energy to be kids! There is also caring and capacity created around these kids through the interaction of those providing the lunches to them in their schools." –Brown Bagging For Calgary's Kids website
Knowing about hungry kids helped us understand how important an organization like BB4CK is for our community.
Brown Bagging has many people who volunteer to prepare healthy lunches for kids and deliver them to all the schools in Calgary; they have 700 volunteers every week! Some of these volunteers help prepare the 2000 lunches per day at their downtown kitchen and others work in different communities preparing more lunches. BB4CK started helping kids in 1990 and now works with over 225 schools around Calgary. They help elementary, junior high and high school students.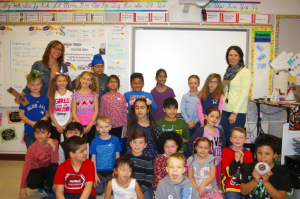 We wanted to know why Tanya was passionate about making sure kids have food to eat. She told us that she wanted to help kids to be the best they can be. The most important message she left us was that those lunches are "Made with Love!"
We wondered how much it costs to make a lunch for one child. When Tanya told us it costs $2, we thought that was not too bad. However, when you need to make 4400 lunches is clear that it costs a lot of money, required a lot of time and people to make that many lunches every day! She also shared with us that Brown Bagging for Calgary's Kids counts with the support of approximately 218 community groups that prepare lunches every day.
Tanya talked about us using our head, heart, and hands to make a difference. When you think with your head, you are trying to understand the need. When you use your heart, you are using your feelings to care for others and you use your hands to take action.
After Tanya finished talking to us about BB4CK, we decorated small brown bags that the organization will use to pack the thank you cards they give to people who support the organization.. We worked very hard and used our best colouring to thank all these people.
Tanya said there are many ways we can take action to help others using our heads, our hearts, and our hands. Beo, Imaan, and Thomas in our class decided to package breakfast for some of the students at our school who do not have breakfast at home. Our whole class decorated lunch bags to help make their day brighter!
Thank you, Tanya, for teaching us that there are kids out there who do not have enough to eat when they go to school. Thank you for helping us to think about what we can do to take action to help others."
The article was published in the school's blog: http://schoolblogs.rockyview.ab.ca/awakeningpassions/?p=6567