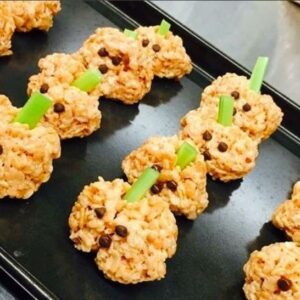 Our incredible kitchen volunteers made these fantastic Jack-O'-Lantern rice krispie treats for Halloween! 
To try them for yourself, use your favourite rice krispie treat recipe and add red and yellow liquid food dye to the mix to create a great orange colour for your pumpkins.
Roll your rice krispie treats into balls and use mini raisins or chocolate chips to make your Jack-O'-Lantern's face, add celery for the pumpkin stem and you have some delicious pumpkin treats!