Looking for a great new muffin recipe to try this weekend? We quite enjoyed making these raspberry lemon crumb muffins in the kitchen!
From the Creme de la Crumb Blog:
Muffins:
1¾ cup flour
1 cup sugar
2 tsp baking powder
¼ tsp baking soda
¼ tsp salt
3 eggs
1 cup plain greek yogurt (or substitute sour cream)
1¼ tsp vanilla extract
2 cups fresh or frozen raspberries
Lemon Topping:
1 cup flour
⅔ cup sugar
Zest of 1 lemon
8 tablespoons butter (melted)
Instructions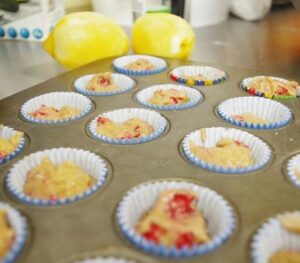 1. Preheat oven to 350 degrees. Line muffin tins with paper liners.
2. Make the crumb topping by stirring together flour, sugar, and lemon zest. Add melted butter and stir to combine.
3. Whisk together flour, sugar, baking powder, baking soda, and salt. In a larger bowl mix eggs, greek yogurt (or sour cream), and vanilla. Add the dry ingredients to wet ingredients and mix until incorporated (don't overmix).
4. Fill muffin liners 1/2 full with batter. Top with raspberries (about 4-5 raspberries each to cover the batter) and then distribute topping over the raspberries.
5. Bake for 20-25 minutes until an inserted toothpick comes out clean (a few loose crumbs or bits of raspberry are okay but no wet batter). Allow to cool in muffin tins for 5-10 minutes before transferring to a cooling rack to cool completely.
See the Creme de la Crumb version here.