Taking Action to impact Kids
Communities across our city take action every day to feed and care for hungry kids.
Volunteers share their time making and delivering lunches in the BB4CK Kitchen and in their own neighbourhoods, planning and supporting special events and projects, raising awareness about hunger in our city, and supporting kids through financial and in-kind donations.
Every action helps to feed and care for children who would otherwise go without a healthy lunch at school and we are grateful for all the ways Calgarians choose to make a difference in the lives of kids in our city. How will you take action?
Ways To Take Action As A Community
Feeding Kids in Your Community
BB4CK works with community groups that operate outside of our downtown kitchen, making lunches in their own communities and delivering them to neighbourhood schools. We work with seniors, students, community associations, restaurants, volunteer groups and many other organizations to help to coordinate their efforts to impact kids in their neighbourhood. We also connect interested individuals to existing community groups, or to others who want to form a group.
Typically, community groups meet twice a week to prepare lunches. BB4CK staff guide the group through health and safety standards, as well as the tips and tricks we use in the downtown kitchen to increase efficiency. We offer support and encouragement to our amazing BB4CK community groups throughout the year with their efforts, including fundraising and facilitating school and neighbourhood connections.
Learn more about:
"I've worked in schools over the years where kids were hungry and I saw what it does to their learning and how it affects them. No matter who you are, you shouldn't be hungry, especially kids when they're trying to learn and trying to do their best."
Stories of Action and Impact from the BB4CK Community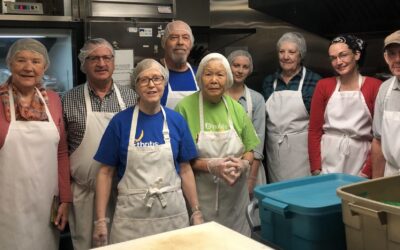 This week is National Volunteer Week (April 19th - 25th, 2020)! Join us as we celebrate the incredible people who choose to take time out of their lives to volunteer with us. To ALL of our volunteers - we thank you from the bottom of our hearts!    Grace...
© 2020 Brown Bagging for Calgary Street Kids Society