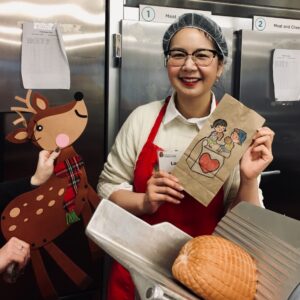 Since September, each month a new limited #LUNCHBAGLOVE chari-tee is released, showcasing brown bag artwork created by students and volunteers on each shirt. A collaboration with DIAMONDS IN THE ROUGH ORIGINALS (D.I.T.R.O), $5 from the sale of every #LUNCHBAGLOVE t-shirt goes directly to feeding kids through BB4CK!
Meet December's #LUNCHBAGLOVE chari-tee artist, Lora, one our amazing core kitchen volunteers!
"I love volunteering at BB4CK for several reasons. Meeting other volunteers and staff with the same mindset and goal is very encouraging and this overwhelmingly positive community we form is very energizing to be a part of. Like most volunteers, we love that what we make and prep in the mornings will be enjoyed within a few hours. There is no question where our efforts are going and this direct impact for the kids is very motivating to keep doing what we're doing. And it's a fantastic way to start the morning! It's upsetting and sad to understand that there are many kids in our very own city who go to school without knowing where their next meal will come from. While as individuals, we may not have all the solutions or manpower, we can at the very least come and give a bit of our time to make sure a child is fed today. If more of us just give a little bit of ourselves to something we believe in, there's no telling how much we can achieve together."
Favourite Lunch? Oh, definitely my usual pea butter & jam sammie. Can't beat Mom and Dad's home cooking, too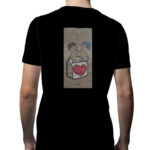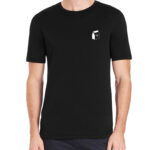 December's brown bag artwork is titled "Peace of Mind: I Can Be Me!"
To order your #LUNCHBAGLOVE tee visit ditroriginals.com/shop.