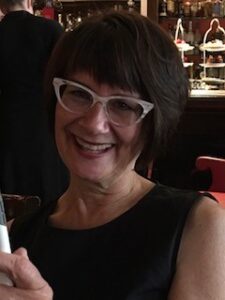 Meet Joanne, a donor making a difference in the lives of Calgary kids:
"As a former food writer, child safety instructor, and literacy advocate, I have long been aware the situation for Calgary's children is far from equitable. When I first got involved with BB4CK back around 2005, I was semi-retired and it was a time I looked to support projects and programs that do the practical daily work of setting things right – as best as possible. BB4CK fit the bill for my goals, then and now. Originally I delivered the big boxes of lunches to the schools with my husband and since then, have contributed through financial support. Frankly, it's the least I can do.
I grew up in a time – yep, way back in the 50s – when our moms expected us home everyday for lunch.
BB4CK, today, does what those 'mom' lunches did for kids back then – fill hollow legs, refuel bodies, fire up brains for more schoolwork, and make kids feel deeply cared for.
One of the Lunch Bag Art thank you's I saw at the BB4CK kitchen and another I received from a young student said simply: Lunch = Love. Couldn't have put it better!
That's what BB4CK means to me and why I'm in for the long haul." – Joanne