Amid the hustle and bustle of Wednesday morning's Tot Time at the Killarney-Glengarry Community Association (KGCA), volunteers Alie, Lisa, Margaret, and Alysha are gathered in the community hall's kitchen making lunches for children in their neighbourhood. The windows between the kitchen and hall are open, and the sound of children playing fills the space.
"Most of us are moms from local schools who are helping out," says Alie as she spreads wow butter across a slice of bread. "We support 4 schools in the area, the community association gives us the space and some donations, and COBS Marda Loop supports us too." Since January of 2018, volunteers meet on Monday and Wednesday mornings to make lunches for 28 kids, set to make 4,200 lunches over this year.
The BB4CK Killarney Community group started taking shape last fall, when the KGCA brought together a group of people to discuss what kind of programming was needed for children in Killarney. One of the attendees was Closer to Home's West Central Community Resource Centre (WCCRC), a current BB4CK partner. "We learned about the WCCRC's programming, and heard about one of their programs called Brown Bagging," says Carolyn Johnson, President of the KGCA. The Killarney community was interested in learning more and connected with BB4CK.
"When they proposed the BB4CK program, Chelsea and I said, "we can do that!" I told Chelsea I didn't like grocery shopping and Chelsea said she didn't like making lunches," says Margaret, "so I said, "if you do the grocery shopping, I'll do the lunches!" So that's how it began."
The group has about eight people who volunteer in various capacities, "most of us are from one school and that happened through word of mouth. One of the ladies who started the group came to the parent group and asked if anyone was interested in being involved," says Alie. "Word kind of spread through the playground gossip line, 'hey do you want to help out,' and a lot of people came to us that way." The group also advertised through their Killarney newsletter and people got involved after reading about the group feeding kids in their neighbourhood.
"I wanted something to do once my kids were in school that was for me," explains Lisa. "This works well with my schedule. I drop the kids off at school and come and do something with a bunch of other moms. It's great. My kids don't go hungry so I don't want other kids to go hungry." Alie agrees that the group's volunteering fits with ease, "I like that this works really well with my schedule and it's an opportunity to help out. I think it is an important cause, feeding kids, and it's such a simple thing. Lunch can do so much for a kid at school. It's a way that I can really be helping in a mindful way."
"I am a teacher myself," says Alysha, "I've worked in schools over the years where kids were hungry and I saw what it does to their learning and how it affects them. No matter who you are, you shouldn't be hungry, especially kids when they're trying to learn and trying to do their best."
The lunches the Killarney group makes contain a sandwich, cut up veggies, a piece of fruit, a snack and once a week a yogurt. Today's bread and snacks are courtesy of COBS Bread, and Margaret is hard at work portioning and bagging scones and tarts. "I like that this is tangible, and hands on. That we make the lunches here and they go directly to kids," she says as she seals half a lemon tart into a bag.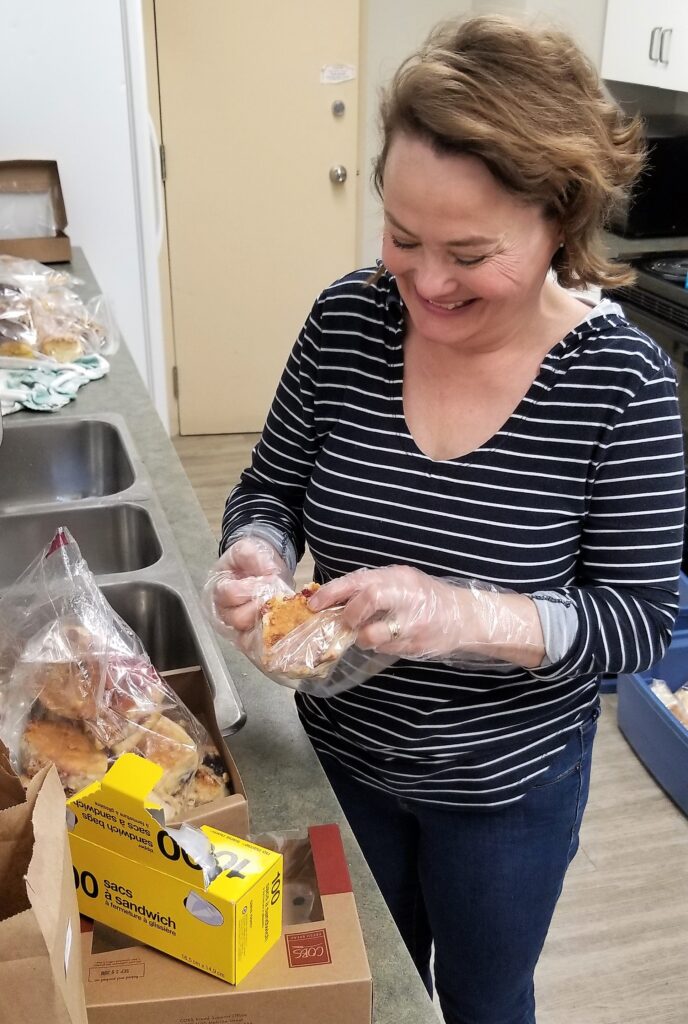 "You go to a school, see the kids and they're running around and happy, you can't imagine that any of them have these deep problems behind them because they're kids and they're running around playing," shares Alie. "Then you see the empty [lunch delivery] box and you realize you solved that problem for them, it opens your eyes to the reality of those happy kids all running around, there are problems that you can't simply see and there is opportunity to help."
The group has done an amazing job of not only feeding kids, but inspiring the community around them to action too. "Lisa was at Superstore and asked if they would support us, and they asked for a letter. We did that and they gave us a gift card," says Alie, who has reached out to a number of neighbourhood businesses for support and had a great response. "There is opportunity out there for local giving that goes unrealized if you don't ask, and it helps supplement. People are really willing to give. COBS donates all their day end bread and that makes a big difference for us."
"Talk to other groups, talk to your community association because they might already be involved in something and they might have funding available. I've connected with our school's parent council association and one other school's. If you can talk to them, you open up this whole world of opportunity. It might be volunteers, or a snack drive at the school dance, and ta-da, there you have a great fundraising opportunity, just through talking to different groups. There is lots of opportunity out there," Alie explains.
"Community should be where people feel supported and I think that if people that support this program know they're giving back locally that fosters a good feeling," says Carolyn. "Leaning on each other for different reasons in the community is definitely what brings people together and makes them feel they belong."
To support the Killarney community group in feeding kids, please visit here.