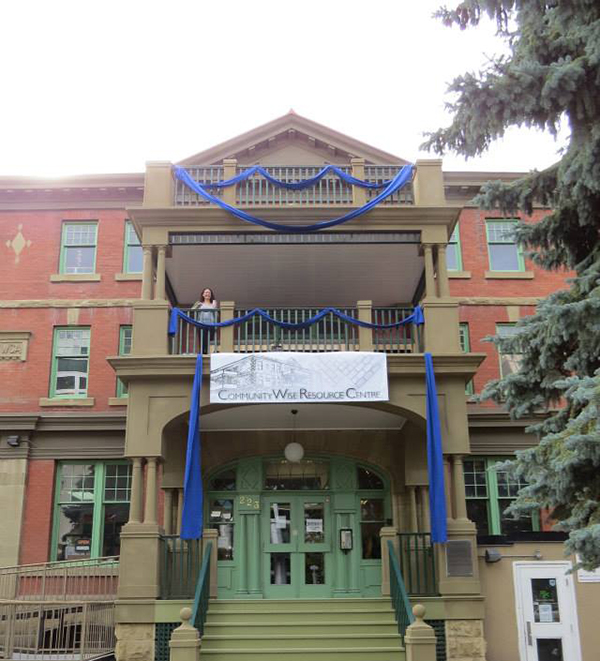 Most Calgarians would recognize the CommunityWise Resource Centre immediately. It's the brick and sandstone building tucked next to the Beltline Aquatic & Fitness Centre on 12 Ave. S.W. There are bike racks and trees out front, and a low wall with a colourful mural.
What you may not know is that this cheerful, Georgian Revival building—affectionately called the "Old Y" for its origins as a YWCA—has been a sanctuary for Calgary nonprofits and charities since the 1970s.
Son Edworthy is the Co-Director of CommunityWise along with a small staff that reports to a tenant board of directors, and maintains the building, spearheads fundraising efforts and manages the building's 100 member organizations, of which 35 are tenants.
Edworthy, who has a degree in urban planning and has been involved with other community-building spaces in Canada, says CommunityWise is extraordinary. "It's not typical. It's really special because of the building's relationship with the city, its heritage, the sense of stewardship and the amazing longevity of the organization, not to mention the diversity of the participants."
Inside CommunityWise
Unlike most other community spaces, which are typically concentrations of similarly focused organizations, CommunityWise is home to a range of groups with a range of goals, from youth and new immigrant services to social justice, environmental sustainability, arts and culture and LGBTQ advocacy.
The three-storey building, constructed in 1911 as a hostel for women, has an elegant central staircase ringed by several small rooms with high ceilings and sash windows. Some have charming whitewashed fireplaces. There's a large meeting space on the main floor and, at the back of the building, a tiny coffee shop called KaffeeKlatsch. Meeting rooms, activity areas and indoor and outdoor common spaces are available to members to borrow, as are resources like sound equipment, festival tents, office supplies, a barbecue and a popcorn maker.
A history of collaboration
Nonprofit and grassroots organizations have occupied the building since the YWCA closed in the 1970s. The building was slated for destruction in the 1980s, but its tenants organized; they banded together as a nonprofit organization, and not only saved the building but had it declared a registered historic resource. In 2012, the "Old Y" became CommunityWise. "The "Old Y" has a place in people's hearts, but it was confusing for people visiting for the first time." The identity changed helped clarify the building's identity and sharpen its vision.
Co-location
Edworthy says the building differs from conventional offices because it was deliberately built with a social purpose. A key aspect of the CommunityWise philosophy is the concept of co-location—having diverse groups exist in the same space. The structure of the space encourages chance encounters, and CommunityWise facilitates intentional encounters too, through social events like the Winter Party and AGM. Edworthy says these encounters can catalyse new approaches and new connections. "Conversations happen all the time and you don't know where they're going to go. Skills get traded. People usually come here for one reason, but they bring the other parts of themselves too."
When BB4CK moved in
Christy Switzer was the chair of the board almost a decade ago, when the move took place. At that time, the BB4CK office was on Stephen Avenue in a building slated for demolition. "It was the second office we lost that way. But we had to be downtown because the kitchen was there and established. We were anticipating another really stressful move, when Bob McInnis [Executive Director of BB4CK at the time] discovered CommunityWise. It was too good to be true. We said, 'Is there no heat? Is there no water?' It was so affordable and so beautiful. It felt like a gift—like a luxury."