On the lower level of Bishop Grandin High School is the Diverse Learning classroom, which serves as a learning space and a retreat for students in that program. Their teachers are devoted to these students and know them well. They can talk about everything from the kids' academic needs and daily schedules to their personal lives—but what emerges again and again is these students' capacity for kindness.
Two Diverse Learning students, Nicholas, 18, and Zack, 15, are devoted to helping peers. Each day, the boys help to pack and distribute lunches to students who would otherwise go without.
A peer-to-peer program
The program is a collaboration between Brown Bagging for Calgary's Kids, the diverse learning students, the guidance office, homeroom teachers and the school's Culinary Arts Program. It also depends on word-of-mouth. "Students bring their peers here," says Nicholas and Zack's teacher. "It's a very safe place [the students] have created."

The students' participation is integrated with the Alberta curriculum as a component of the Health and Life Skills program of study. To prepare and provide lunches, maintain high hygiene standards and account for allergies is no small responsibility.
Culinary Arts
Some Diverse Learning students are also taking Culinary Arts, a program run by chef Scott, who spent more than twenty years in professional kitchens before pursuing his teaching degree. When he arrived at the school five years ago, he oversaw the installation of a commercial kitchen just up the hall from the Diverse Learning classroom.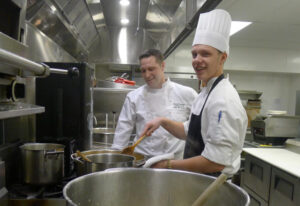 Scott's students, dressed in chef's whites, plan menus, calculate margins, prepare meals from scratch and sell them each day in the cafeteria. They also help to prepare the brown bag lunches that Nicholas and Zack distribute.
A cooperative effort
Bishop Grandin teachers have been cooperating to provide meals for students since Scott arrived at the school five years ago and learned there were students in need. "When they're thinking about their stomachs they're not thinking about school," he says.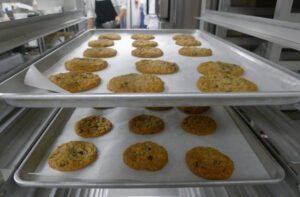 The Diverse Learning teachers say they make a connection with every student who accesses the lunch program, and every student says thank you. "It's not a free lunch, it's a provided lunch. It's an entirely different relationship from saying, 'Let me buy you lunch.'"
Making lunches provides an excellent learning opportunity and necessary community-support, but to Nicholas the benefits are more personal. "It feels good to help someone who doesn't have a lunch."
With the support of BB4CK, Shaganappi community members are working together to feed children in their neighborhood.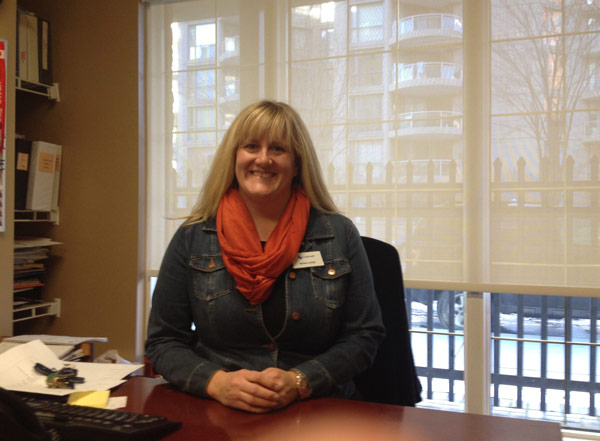 Monika Jones is a Sales Consultant at Chartwell Eau Claire Care Residence, an assisted living facility a couple of blocks south of the Peace Bridge. Since March 2014, four or five of the facility's residents have gathered twice a week to make sandwiches and pack fruit and veggies through the Brown Bagging for Calgary's Kids program. They make and deliver 94 lunches to the Discovering Choices High School outreach program downtown and Crescent Heights High School. This is Jones's answer to the question, "What is a sandwich?"
"A sandwich is purpose."
Monika: "I got feedback from Discovering Choices High School outreach program, one of the schools that we help and deliver to. The feedback was that the students can tell that the lunches that we're bringing— that they're made with love.
"And that just warmed my heart because in making those sandwiches every week, I know what that means to the residents here. It brings back memories of when they made lunch for their own kids, and for the residents who help with the program—most of them are women—it's from love. They feel like they're making a sandwich for their own child.
"For the residents, the lunches give them a sense of purpose. They have the ability to give back to their community, and a good reason to get up in the morning. They feel that they can still participate in things, that they can give back and make a difference."