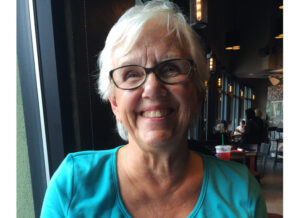 At a meeting of the Acadian Networking Group in early 2015, Catherine Marlin learned that some children in Acadia were coming to school without lunches. "Of course, my question was, 'What are we going to do about it?'" Marlin says.
Marlin showed up at the next meeting with a proposal to conduct a trial run of a group that would make and deliver lunches to schools in the neighbourhood. Following a successful six-week pilot program in May and June of 2015, Marlin and her group have spent the summer break planning and preparing for the 2015 – 2016 school year.
Finding support
Marlin says it wasn't difficult to find community support for the project. The Acadian Networking Group — which represents several organizations and institutions in Acadia including Marlin's church, McDougall United Church, the Elks Club, CUPS and neighbourhood schools — has proven an excellent starting place. Marlin has worked alongside collaborator Diane Mather to secure funding and volunteer support for the community group project, and many others have been just as eager to help.
"As soon as I said I wanted to get people together to make lunches, someone tapped me on the shoulder and said 'I want to get involved,'" Marlin says.
Reaching out to Brown Bagging for Calgary's Kids early in the process helped Marlin identify and connect with schools and get information about organizing the group, nutritional standards and food handling. The organization still checks in with Marlin regularly to see how her group is progressing and answer any questions that arise. Through the Acadian Networking Group, Marlin and Mather met Carol Tomiyama, a public health nurse who gave them useful nutrition advice.
Meeting early challenges
Marlin says the initial six-week trial period was a valuable learning experience. "I had no idea how many vegetarian kids there would be in a school!" Marlin has been experimenting with recipes over the summer with help from Mather's daughter, who is working toward a master's degree in nutrition and eats a vegan diet.
Securing funding and volunteer support have been the primary challenges in establishing the community group, according to Marlin, but she says neither has proven difficult to overcome. Marlin's extensive network and church community were eager to get involved and volunteer to provide lunches for children in the community.
Currently, Marlin is in the process of applying for a funding grant from the United Church. Two grocery stores in the community have provided gift cards for food supplies: Save-On Foods is providing gift cards on a weekly basis and Calgary Co-op (through the Co-op Foundation) has given the group a lump sum with an eye to contributing on an ongoing basis. Marlin is confident a third store will come on board this fall. Individuals are finding ways to help too. "An old friend gave me $500 just because he wanted to support the program — a 92-year-old man," Marlin says.
Other challenges arose along the way. Acadia School was initially reluctant to accept lunches from Marlin's group because the school had no on-site fridge. Marlin's son and grandson gathered a few friends and did a bottle drive, which raised enough money to purchase a fridge for the school — with $100 to spare.
McDougall United Church has a full commercial kitchen that it provides to Marlin's community group, and a second church in the area, Lutheran Church of Our Saviour, has offered its help. Lord Beaverbrook High School has a foods program that will contribute baked goods, and the southeast elementary campus of the Foundations for the Future Charter Academy is tentatively planning to contribute soups and muffins.
Putting it all into practice
As the school year gets underway, Marlin is providing or arranging lunches four days a week for students at Acadia School, an elementary school, and David Thompson, a middle school.
What advice does Marlin have for Calgarians who are considering providing lunches to children in their own neighbourhoods? "Just try it. Just do it. It's amazing how many people will come forward to help you."
Find out how to get involved with a community group or learn how to create your own here.