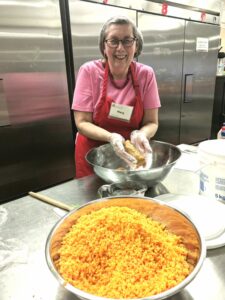 Meet Marg, one of our downtown kitchen's incredible core volunteers. Marg has been joining us on Wednesday mornings to help feed kids since the fall of 2016. She brings warmth, care, and fabulous recipes to our kitchen! We love baking Marg's Cheddar Cheese Coins and she's shared the recipe below!
"I began to volunteer to make a difference in children's school lives, and everything I have learned about the organization and its staff reinforces my belief that this small group of dedicated people are maximizing the good that they do with a small budget and big hearts. I had been looking for a volunteer job that would help children learn in school, but was not directly in the classroom. I found BB4CK online and it seemed like a good fit, especially since I am an early riser with lots of energy in the morning! I arrive around 6:30 am to set up the sandwich tables and then start the laundry, or fill in for any tasks that need doing before sandwich making can begin. I look forward to seeing the staff and other Wednesday volunteers each week – they all exude warmth and respect for one another while working quickly and efficiently to get the jobs done and have fun, too. I like the challenge of being a smoothly-functioning cog in the 'well-oiled machine' at the meat and cheese sandwich table!" – Marg
Marg's favourite lunch as a child? "Growing up I was fortunate enough to live close to my elementary school, so I could walk home at lunchtime. My favorite lunch was home-made soup (often navy beans in beef stock), always on the same day as my mom baked many loaves of bread and, sometimes, homemade buns. I can retrieve the memories of those lovely smells from long ago, and I still can't resist freshly-baked bread."
Marg's Cheddar Cheese Coins Recipe:
Adapted from a recipe in The Chatelaine Cookbook by Elaine Collett (Maclean-Hunter Publ., 1965, p.52). Makes 6 dozen.
1 1/2 cups grated cheese
1 1/4 cups flour
1 teaspoon baking powder
1/4 teaspoon salt
1/2 teaspoon dry mustard
1/2 to 1 teaspoon Old Bay Seasoning
1/2 cup mayonnaise
A few teaspoons water as needed to make a stiff dough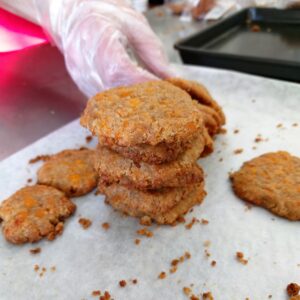 Prepare baking sheets: line with foil and spray lightly with cooking spray or line sheets with ungreased parchment. Preheat oven to 425 F.
Mix dry ingredients in a medium bowl. Add grated cheese to dry ingredients and mix well.
Add mayonnaise in two portions, mixing well to make a stiff dough. If needed to blend in all dry ingredients, add water a teaspoon at a time until dough will gather into a firm ball.
Divide the ball into 4 parts and place on saran wrap. Shape each part into a log — about 1.5 inches in diameter. Pat in the ends to keep even diameter.
Chill in freezer for 10 to 15 minutes until dough is very firm. (Or freeze for later baking).
With a sharp knife, cut each log into thin slices (less than 1/4 inch). Slices may squish into an oval shape — no problem. Place slices on prepared baking sheets about 1/2 inch apart.
Bake for 10 minutes at 425 F. until edges are dark golden or brown. Cooled 'cheese coins' should be somewhat crisp.