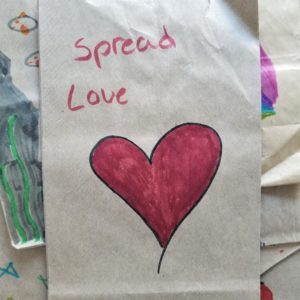 "I have been a teacher for 21 years, teaching Kindergarten to Grade 6.  There have always been tough times for my students and their families, but I have always been fortunate to have resources available to meet the immediate needs.  Life has changed a lot in those 21 years, and I unfortunately witnessed one of the hardest moments ever in my teaching career.
It was a Thursday after school when I saw his mom outside waiting for her boys.  Looking sullen, defeated and just done, she called me over to talk.  "I won't be sending the boys to school tomorrow.  I don't have any food to send them for snack or lunch.  I'm sorry.  I know they need to be here. I just don't have the energy to walk them here."
I didn't know what to say. How do you express to a mom that you understand when you have no idea what it is like not to be able to feed your children?  I told her to trust me, that I would get food for her boys to eat at school tomorrow, and we would have food to send home for them too.  Not knowing her well as it was only the first month of school, I hoped she could see my sincerity and concern and know I would not let her down. She hesitantly agreed.
I put out an all call to our staff asking for an overnight food drive for this family.  My next step was contacting Brown Bagging for Calgary's Kids to make sure this never happened again. They immediately responded and within a few short days, had food arriving at our school for students in need.
The behaviour of this particular student changed dramatically within two days!  He went from a boy who could not focus and cried every day to a boy who was smiling, playing with friends, and getting work done!  Every day he knew he could go upstairs to get food and never had to be hungry again.  His mom contacted me about a week after Brown Bagging for Calgary's Kids started at our school, thanking me for making sure her boys were never hungry.
I later found out that their mom was not eating at all in order for her three boys at home to have enough food.  It was only when she literally ran out of all food sources did she finally admit that she could not feed her family.  I'm so thankful that she found the courage to ask for help and the bravery to accept the help.
Thank you Brown Bagging for Calgary's Kids and all your donors for recognizing the need we have in our schools – you have truly made a difference!"