Beginning on August 14, 2018 you can pre-order your own limited edition #LUNCHBAGLOVE t-shirt to help feed and care for kids across our city!
We've teamed up with Sam Mendoza, apparel designer and founder of DIAMONDS IN THE ROUGH ORIGINALS (D.I.T.R.O) to create a collaborative limited edition set of "chari-tees" (charitable t-shirts) named #LUNCHBAGLOVE. Officially launching on September 4, 2018, $5 from the sale of every #LUNCHBAGLOVE t-shirt will go directly to feeding kids through BB4CK.
Each month, a new limited release tee will be available with brown bag artwork created by students and volunteers showcased on each shirt. To design the chari-tees, Sam and BB4CK created an art contest for the students of the schools supported by BB4CK's program, and BB4CK volunteers. Students and volunteers submitted a brown bag decorated with their own piece of original art that was drawn, painted, stenciled – or however the contestants wished to express themselves – onto their submitted lunch bag. From the submissions, we chose the decorated brown bags of 10 students and 2 BB4CK volunteers to be featured as one of the 12 unique #LUNCHBAGLOVE chari-tee designs. Each month there will only be 60 t-shirts available of that month's featured brown bag artwork.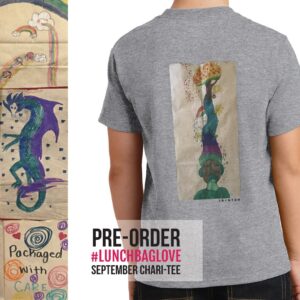 T-shirts will be available online at ditroriginals.com/shop as well as at the BB4CK Kitchen. D.I.T.R.O will also be stocking independent boutiques in Calgary and participating in local Alberta markets and gatherings. Follow D.I.T.R.O on Instagram for regular updates.
Sam first created DIAMONDS IN THE ROUGH ORIGINALS (D.I.T.R.O) as a passion project stemming from her time working in mental health services at the Centennial Centre of Mental Health & Brain Injury in Ponoka, Alberta where she grew up. With D.I.T.R.O, Sam works to raise awareness for charitable causes, collaborating with charitable organizations, fashion designers, artists, entrepreneurs, and local businesses to raise proceeds and awareness for social issues that impact communities throughout the world. Fueled by her motivation to bring together a love for streetwear fashion and her graphic design experience, Sam strives to contribute to a future where every human being is reminded that they are worthy of love, hope, support and the right to pursue their passions in life.
Sam first learned about BB4CK when she was part of the Dote Magazine's "Girls Who Give" editorial feature in their SS17 publication alongside Tanya (BB4CK's Executive Director), Breanne from Mealshare, and Melissa from Jacob Grace Designs. She started volunteering in the kitchen shortly after, in May of 2017. "On my first day volunteering at BB4CK, I remember being incredibly drawn to their brown bag art wall; it was the inspirational spark behind #LUNCHBAGLOVE," says Sam. "I was so inspired seeing all the creative lunch bag artwork, and to me each lunch bag on that wall represented the 4,200 students that are fed every school day."
With D.I.T.R.O's #LUNCHBAGLOVE chari-tees Sam hopes to creatively fulfill the BB4CK mission: connect and inspire people to take meaningful action to feed and care for kids. "I am honoured to have the opportunity to not only collaborate with the staff of BB4CK but also with the student and volunteer artists of BB4CK who too have been inspired to share their lunch bag art to raise awareness and funds through our chari-tee collaboration to provide healthy lunches for students who would otherwise go hungry," says Sam.
"My favourite part of being part of the BB4CK community is knowing that I am part of a great team/family whose passion is to make a difference in a child's life, and our city" shares Sam.
"I support BB4CK because of their passion and motivation to raise awareness about the reality of how many kids go hungry in our city, and why a sense of community is important to take meaningful action to feed and care for Calgary's Kids. Every day, I am inspired and motivated by the BB4CK staff and kitchen volunteers, as well as the community group volunteers who make and deliver the student lunches. They make me feel part of the team and that I too can make a difference and give back in my own way," says Sam.
Order your #LUNCHBAGLOVE chari-tee here. If you live in Calgary and would like to pick up your tee use the code "LBLYYC" at checkout and you'll be contacted to coordinate pickup.