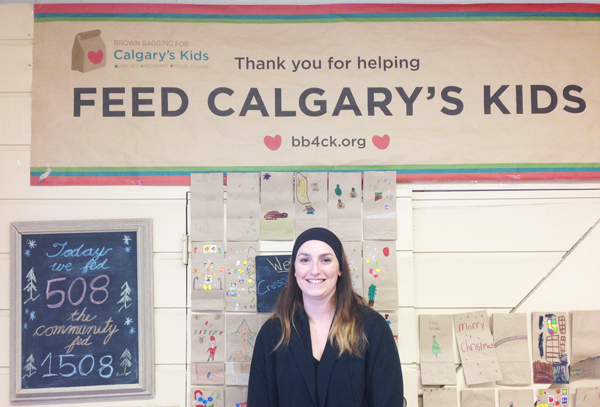 Each weekday morning, Stephanie Gauthier arrives at the BB4CK downtown kitchen at 5:30 a.m., so that she can get an hour of prep done before the volunteers arrive. By noon, hundreds children in schools across the city are eating the lunches Gauthier and her crew have made.
The kitchen is small, with banks of humming fridges, stainless steel tables and a prep area of donated industrial coolers with woodblock tops. It is spotlessly clean and meticulously organized, and a large map covers one wall, with coloured stickers showing the locations of all the schools the kitchen serves. Gauthier's tiny office is also a dry goods pantry.
She has been helming the kitchen for almost six months, after moving to Calgary from Edmonton with a BSc. in nutrition and a wish to work with children and food. "I was just Googling lunch programs in Calgary and found the Brown Bagging website. I read the testimonials and it just amazed me and drew me in."
Gauthier contacted the organization to offer her services, either as an employee or a volunteer. Shortly afterward, long-time BB4CK Kitchen Coordinator Mimi Ip decided to move on, and the organization offered the role to Gauthier.
Gauthier works with a team of regular and guest volunteers. The "core" volunteers (who come to the kitchen weekly) arrive at 6:30 a.m. to help prepare egg and tuna salad and to cut meat and cheese. By 8 a.m., a corporate volunteer group arrives, and Gauthier hands out aprons and nametags and runs over kitchen guidelines and hygiene rules.
Then, everyone makes lunches. Volunteer drivers start shipping lunches by 9:30 a.m., and then the volunteers work together to prep for the next day. "We might peel eggs, pack veggie and fruit bags and bags of pretzels. Today we made cookie dough that we'll bake tomorrow."
Today Gauthier's crew made 900 lunches; tomorrow they'll need to make 500. Gauthier must anticipate quantities, prep appropriately and ensure supplies–which come from the Calgary Food Bank, Canadian Wholesale, Chongo's, The Italian Bakery and Bles Wold–are adequate.
Despite the logistical challenges of running the kitchen and overseeing volunteers, Gauthier makes time to bake whenever she can. "Last week I made cheese biscuits, and sometimes I make Rice Krispie squares, banana bread or energy balls. The last school week of December we made and decorated 2,300 Christmas cookies. I'd like to do something festive for each season."
Gauthier says one of the most pleasant moments of the day comes at 10 a.m., when everyone stops for a coffee and snack break. It's a time for the group to share stories and inspiration, nourishing not only their bodies, but their motivation to continue making a difference in Calgary. Gauthier says every day, connections form between people who may never have crossed paths otherwise. "It's so neat to see the different groups mingle. It doesn't matter where they work or what their background is—in the kitchen, everyone has a good time."