Every day, the BB4CK community feeds kids in 225 schools across Calgary. Recently, a NW elementary school shared their story of the impact BB4CK has on their school community. The food and care provided to the students has a lasting impact on the lives of those touched; this is about more than a lunch. This is about taking action to care for one another in our communities.
Their school principal shares, "I have the privilege of seeing first-hand the rewards of everyone's generosity. Being able to tell a parent not to worry about providing a lunch for their child and seeing the relief that brings to them. Seeing happy children looking forward to lunchtime knowing they are getting a lunch that was especially made for them. Staff that know that their students perform and focus better on a full stomach and get along better with others. I really appreciate the partnership we have with BB4CK and the support you give to our students and their families. We have had an amazing relationship with BB4CK over my years as the principal at our school. The staff and volunteers we have worked with through BB4CK have been so accommodating and are always cheerful and thoughtful. This year we have between 12-15 children receiving lunches each day."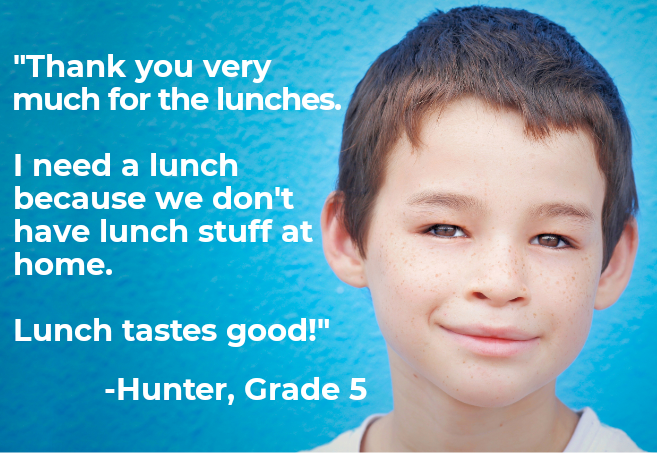 The NW elementary's Lunchroom Supervisor shares a story of the impact a lunch has on one of their students, "There have been at least 3 children getting lunches for years. I do not know their situation for getting the lunches. They pick what they want and I find that one boy usually takes everything! Sometimes, I find that he is wanting more but does not ask. I walk past him and he is scraping the bowl several times even though there is nothing left. If there is extra, I ask him if he would like more. I'm sure all the children are appreciative of the lunches, but I feel that this boy is more so."
A mother of two boys receiving lunches at this school shared, "since coming to this school, I feel comfortable. I feel good that my kids are provided for. I pray for the school and for those who make the lunches. They are amazing! God bless them all for feeding my children. I have no milk, no bread, but my kids have lunches!"
The care and compassion of the lunches extends far beyond the walls of the school. The stories from this school show the impact you make in your community when you take action to support kids. Feed kids today by visiting bb4ck.org/donate-now.