BB4CK works with schools, community groups and volunteers to ensure that over 229 schools across Calgary are provided with lunch for hungry kids. Some of these schools are supported by incredible community groups – this is one of their stories:
SAIT Culinary Arts Association students are stepping up every week to provide delicious and nutritious lunches for our local #YYC kids. They volunteer for this every week, and are supported by SAIT, using their kitchen and facilities. Why? Here's a few of their stories:
Laura, the lead of the SAIT Culinary Arts Association's BB4CK Partnership:
"I got involved in BB4CK through the SAIT Culinary Arts Association. I had been looking for an opportunity for the students to get involved in the broader Calgary community throughout this school year. When Chef Andrew Hewson approached me about finding volunteers for BB4CK, I knew it would be the perfect fit for us. We already have the facilities and proper AHS licensing to produce food, and not only would we be doing service for the community, but this gives us a regularly scheduled event that is hugely beneficial to provide continuity for the Culinary Arts Association.
It is great to have the opportunity to cook for a diverse population and learn about what type of food is required for different purposes. Often, for extra-curricular cooking events, we make elevated fine-dining dishes. While these are fun to do sometimes, I believe there is significant value that comes from preparing simple, wholesome food that comes from the heart. This partnership proves to students that a meal can be as simple as a sandwich and a serving of vegetables and fruit and still meaningful and important to make.
Every time we make lunches for BB4CK, we always have an abundance of students wanting to help out, everyone has a fantastic time while they are in the kitchen, and they leave happier than when they arrived. Doing this kind of service not only feeds the community, but it feeds the souls of those who volunteer.
Put simply; I volunteer for BB4CK because I believe in the importance of strong communities and good food."
Ashleigh, a regular SAIT Culinary Arts Association volunteer, and a previous recipient of some BB4CK love (and food)!
"Well I have had the opportunity to volunteer years ago at the downtown kitchen making sandwiches but what really drew me to doing this and joining in on this wonderful project was the support you guys give to Calgary as a whole. You guys fed me through high school at Westbrook Discovering Outreach while I was trying to graduate and it was the one thing that kept me going there to get work done.
I still believe to this day that the one important thing to make the world a better place is to give that support however it may be to the younger generations since they will be the ones to carry on. Connection and giving back are two things I really value. So giving back to you guys, the ones who helped me in a time of need, it's only right to start here. And being giving the opportunity to start this with SAIT Baking has been a huge honour that I hope to continue into our 2nd year."
Chloe, a regular SAIT Culinary Arts Association volunteer: 
"I started volunteering for BB4CK when my classmate; Ashleigh asked us if a few of us if we would like to help out make baked goods for lunches for kids that don't have access to a proper lunch to get them through the day.
Volunteering with BB4CK reminds me of all the times I volunteered with Boys and Girls Club of Red Deer and District. Being able to work alongside other students in the Baking and Cooking programs that help out BB4CK is a wonderful experience. Helping BB4CK makes me feel happy and it feels great giving back to the community when its needed most."
Cecilia, a regular SAIT Culinary Arts Association volunteer: 
"I've always loved the part about baking where I get to see other peoples' expressions when presented with baked goods.  The joy that can come from an unexpected gift is immense and incredible, and it fills my own heart with joy.  In the kitchen, it's harder to see that expression on peoples' faces, but I know they still get excited when they purchase their delicious desserts – it's dessert after all!
Ashleigh asked for my help in volunteering for this organization, so I was helping her as a friend before I even knew what I was baking for.  It gives me joy to know that those cookies we're making are going to BB4CK, an organization that will make less fortunate kids even more happy than my baking alone could do otherwise.  I hadn't heard of this organization previously (as I mentioned before, I was originally doing this to help out Ashleigh), but I'm so glad to now be a part of it, making kids happy from behind the scenes in the kitchen."
To everyone who volunteers with us (and bakes those delicious, delicious oatmeal cookies!!) thank you! You are truly working towards a future where no kids go hungry.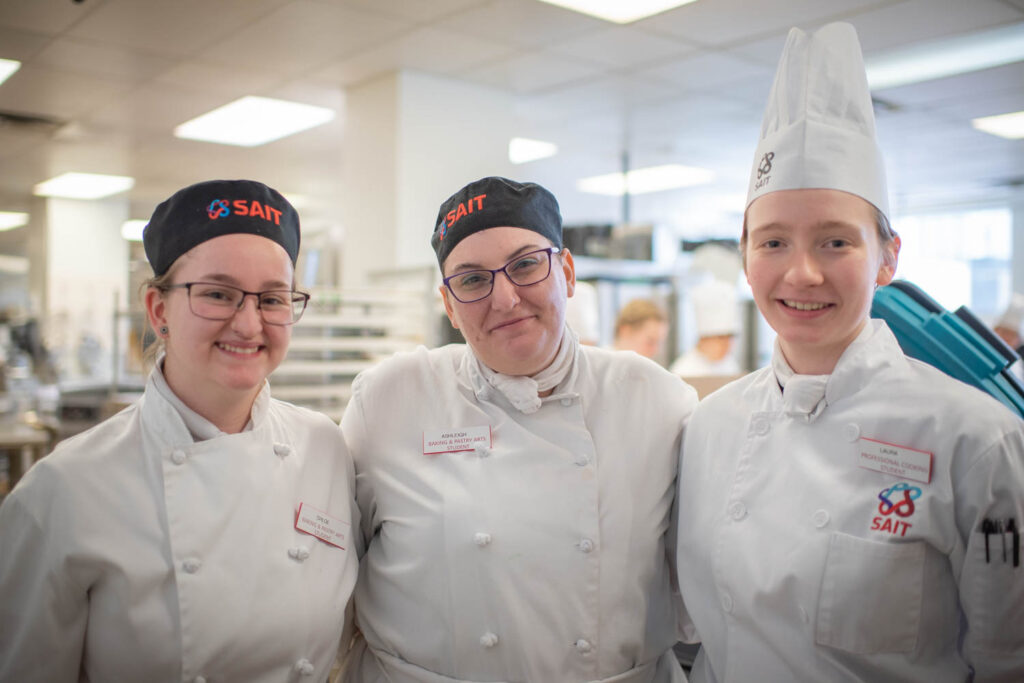 Keep in touch with us on Social: