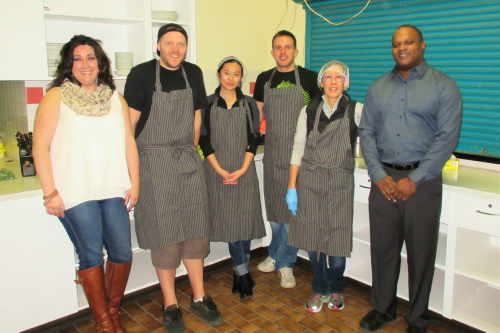 "Start small. Even one lunch makes a difference."
Last year, the management team of Summit Kids, an innovative out-of-school care program, was exploring new ways to make a difference in their community. When they learned about Brown Bagging for Calgary's Kids they embraced the opportunity to start making lunches for kids in our city who would otherwise go without.
Led by Summit Kids' Inspiration Architect, Chad Fawcett, the volunteer group meets at the West Hillhurst Community Association (WHCA) to serve 3 schools and create 100 lunches each week. Chad, the program's champion, runs and promotes the program and recruits new volunteers from both inside and outside the organization. "We've really made it a community initiative, something that we didn't realize would happen when we first started. It was just us, it was just going to be an in-house thing and now it's really great when I look at our volunteer schedule" shares Nancy Klensch, Creator of Summit Kids.
Upon sharing their story with their ATB branch, branch staff inquired how they could be involved and have been volunteering ever since. WHCA staff and members of the community have become involved through their community association and have taken part in rolling up their sleeves to make lunches. "Every couple of weeks a group comes in and bakes. At Christmas time we made sugar cookies and the kids in our Summit Kids program here decorated the cookies" Klensch shares, "It was a true community contribution. All the cookies that went out in the lunches were decorated with lots of love from our kindergarten kids."
The schools have shared positive feedback with their group. "They really do see a difference" Klensch says "It all fits in academically and socially, one lunch makes a huge difference. It even goes beyond primary hunger. It's a huge reason to do what we do."
Klensch does the grocery shopping on Sundays and loves the opportunity to educate other people about their program. "Standing in the grocery check out line is the perfect opportunity to educate people" explains Klensch. "When people see 14 loaves of bread, 40 apples, 40 oranges and all of the groceries they always kind of look at you and go, "what are you doing?""
Klensch's piece of advice for those interested in starting a community group? "Start small, that's ok. You can start by joining a group like ours, coming in once a month and just learning and seeing if this is something for you. It is never too small." "Hopefully we'll just keep getting bigger and better and helping more and one day we won't have hungry kids."
Find out how you can create a community group to make lunches for students in your neighbourhood.