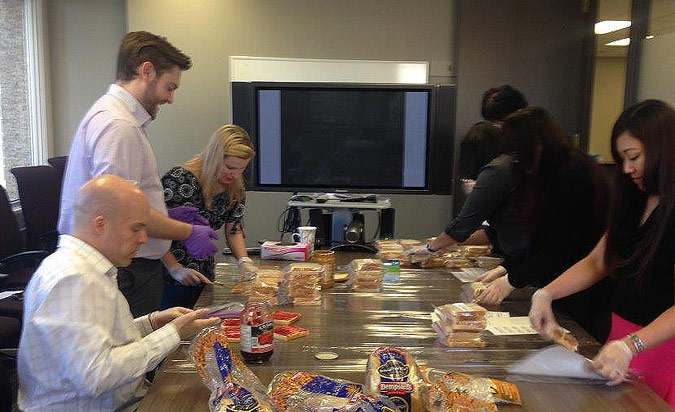 Once a year, the Calgary chapter of the Society of Petroleum Engineers, a worldwide member organization for energy-sector professionals, donates time to a local charity.
Alex Brown, Society of Petroleum Engineers (or SPE) Events Specialist, describes this volunteer endeavor as a give-back initiative from one nonprofit organization to another. Brown's colleague Rudeen Hoffman, Senior Events Coordinator, had volunteered for BB4CK in the past and believes in the work of the organization. Hoffman reached out to Jill Birch from BB4CK, who referred her to Michelle Couture, Diversity Learning Teacher at St. Stephen School.
Brown says the experience was thoroughly positive. "We had guidelines to follow from BB4CK on allergies, cross contamination and hand washing. We made lunches with our staff of about 13 in our conference room, over two days, and Rudeen and a few helpers delivered them to St. Stephen School."
Couture says her school typically sees lunch needs increase just after Christmas and toward the end of each month, as families anticipate their next paycheque. St. Stephen welcomes students from a vast demographic range, some of whom have limited means or whose families who are new to the country.
According to Couture, there are days when 20 children might come to school without the necessities. While Couture often purchases groceries with funding from BB4CK and provides lunches herself, she says it's great when other organizations get involved. She observes a major difference in her students after a nutritious meal. "When they're hungry or tired they're not ready to work," Couture says. She adds that St. Stephen is lucky to have the support of BB4CK and the Society of Petroleum Engineers. "For our students, knowing they can get lunch at school lessens their burden. They don't have to feel bad about asking for it."
Brown and her colleagues are looking forward to the opportunity to repeat the experience. "It was a good time for all of us," Brown says. "We've already talked about doing it again because we enjoyed it so much. It got all of us out of our work bubbles."
Find out how your corporate group can get involved with BB4CK.