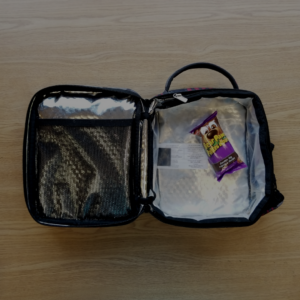 Have you ever been hungry? Genuinely hungry – the kind of hungry where your stomach growls, then starts to feel empty and hollow? The kind of hungry where you know you're hungry, but your stomach is past the point of hurting? So hungry that all your thoughts center on food, what you could eat, and where you could get it?
Every day, 4,200 kids walk through the doors of Calgary schools without enough food in their backpacks or money to buy lunch. Some students bring no food at all, while others bring a granola bar for lunch, or a piece of bread with margarine on it to get them through the day. The short term and long term effects of hunger for children are clear. These kids experience lower grades in school, fewer friendships, behavioural challenges, and mental health concerns.
Kids who don't have access to the food they need can't focus in class and struggle academically. Many times, children and youth who do not have access to food do not come to school at all, with much higher than average rates of being absent and missing classes. (Kleinman et al. 2002)
A student who doesn't have lunch can miss out on one of the most valuable social experiences of school by not enjoying a meal in the cafeteria with all their friends. Being the only kid at the table without food does not feel good, so kids most often avoid it and miss the opportunity to develop friendships and healthy social skills. Instead, these students may be found hiding in a stairwell or bathroom until their friends finish eating.
Behavioural challenges often arise for kids who are hungry. Unable to calm their grumbling stomachs, and fearful of not knowing when and where they will get food, these kids may act in ways that can be surprising and unexpected. School staff tell us that kids who are hungry are more likely to act out against their friends or teachers, get into altercations or disrupt class. In desperation, some students will take food from anywhere in the school that they can find it.  Studies tell us that kids who are hungry are 7 to 12 times as likely to experience serious behavioral problems as other kids. (Kleinman et al. 1998; 5 of 6)
Hunger often equals a lack of adequate nutrition, impacting the ability of children to develop to be as healthy as possible. Teachers share stories about students who are exhausted, lethargic, unable to join in recess games or during gym class – all because they are not getting the food they need to power their growing bodies.
Finally, kids who experience hunger are more at risk of mental health concerns, with depression and suicide risk both increasing for children and teens who have experienced hunger. (Alaimo, Olson, Frongillo 2002; McIntyre et al. 2013)
Parents are doing the very best they can with the resources they have to raise healthy and happy kids. They do not wake up in the morning with the intention of their children going hungry. When a parent isn't able to send their child to school with a healthy lunch, this can cause great stress and distress. There are hundreds of reasons that families find themselves in these situations, from layoffs to illness. No two stories are exactly alike, although there is a common thread – most families never dreamt they'd have to wonder about where their next meal is coming from.
The reality of hunger is not easy. It is painful. It is isolating. It is overwhelming and crushing, and it impacts every moment of every day for someone who is experiencing it.
The reality of hunger is that it hurts, and that the solution is simple.
The solution to hunger is food.
Every school day, the BB4CK community comes together to make and deliver lunches for kids who would otherwise go without. Ensuring that kids have the food they need to satisfy their hunger, to fill their stomachs and fuel their bodies, is a simple solution that our community provides every school day.
That's where you come in. You can feed these kids. Donate today to help ensure no kids in our city ever have to go hungry at school.
__________________________________________________________________________________________________
Alaimo, Katherine, Christine M. Olson, Edward A. Frongillo. 2002. "Community and International Nutrition Family Food Insufficiency, but Not Low Family Income , Is Positively Associated with Dysthymia and Suicide Symptoms in Adolescents." Journal of Nutrition. 132:719–25.
Kleinman, Ronald E. J. Michael Murphey, Michelle Little, Maria Pagano, Cheryl A. Wehler, Kenneth Regal, Michael S. Jellinek. 1998. "Hunger in Children in the United Steates: Potential Behavioral and Emotional Correlates." 101(1).
Kleinman, R. E., S. Hall, H. Green, D. Korzec-Ramirez, K. Patton, M. Pagano, J.M. Murphey. 2002. "Diet, Breakfast, and Academic Performance in Children." Annals of nutrition & metabolism 46(0 1):24–30.
McIntyre, Lynn, Jeanne V. A. Williams, Dina H. Lavorato, Scott Patten. 2013. "Depression and Suicide Ideation in Late Adolescence and Early Adulthood Are an Outcome of Child Hunger." Journal of Affective Disorders 150(1):123–29. Retrieved (http://dx.doi.org/10.1016/j.jad.2012.11.029).