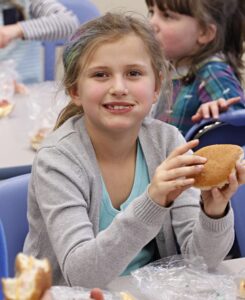 "I remember the Monday everything changed.
I was 8 years old. I sat in the corner of the lunchroom, head down, trying to be invisible. My stomach hurt and my head ached.
I was hungry, and a BB4CK lunch changed that. This is why I'm forever grateful for you.
On this particular Monday, the lunchroom supervisor, Mrs. Porter noticed me. She saw that none of the other kids were talking to me. She watched as everyone dug into their lunch – everyone except me. She looked at me sitting alone in the corner, trying to ignore everyone else eating. She knew I was craving their food, and also, their friendship.
I was hungry and lonely and wishing one of the other kids would share their lunch with me.
I was the only kid in my class without a lunch. I was also the only one with shoes one size too small, and a torn and tattered backpack. I was different – and different meant I had no friends.
That is, until Mrs. Porter noticed me.
I don't know much about her, but that day, in my 3rd grade mind, Mrs. Porter was a superhero.
This was just another Monday with nothing to eat. Sitting in the corner, I was counting down the minutes until I could go back to my classroom. Then, a voice, "Is your name Jennifer?" I looked up and into the eyes of Mrs. Porter. She gave me a small smile and held out a sandwich in a plastic bag.
"Would you like an egg salad sandwich?" she offered.
My eyes must have said it all, because before I squeaked out "Yes", she had placed it in my hands. It was the best sandwich I had ever eaten – and with it came a couple carrots, some apple slices, and a homemade cheese biscuit.
Every day after that, when I walked into the lunchroom, Mrs. Porter was waiting for me with a lunch and a kind word. I noticed that other kids sometimes got a lunch from Mrs. Porter too. One day, Mrs. Porter asked if I'd like to sit with her and Alina. Mrs. Porter asked about our days, our school work, and our families, while Alina and I ate our egg salad sandwiches together.
I was no longer hungry, and I had made a new friend. That's why I'm grateful for you and BB4CK.
The lunch that Mrs. Porter gave me every day came from BB4CK. She told me that each lunch was made by someone who cared for me and wanted me to succeed. That lunch was more than just a sandwich to me. That lunch gave me a sense of belonging and a full stomach.
Now, thinking back to all those years ago, I am deeply grateful for the difference you made in my life. Those lunches gave me hope. They changed everything."

*Based on a true story