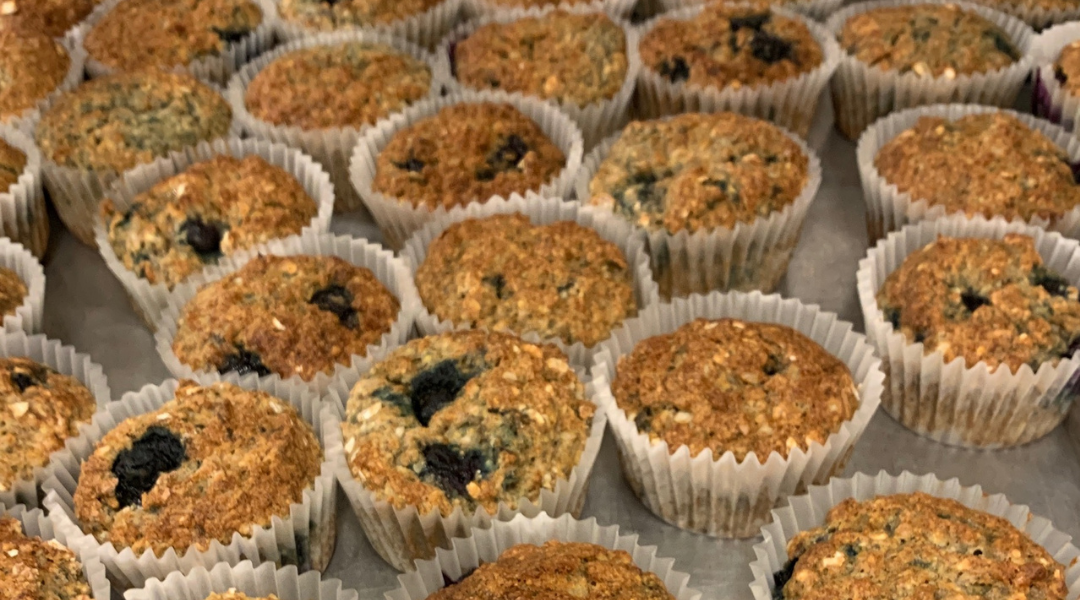 Recipe from: The Looneyspooons Collection Janet and Greta Podleski
Recipe:
1 Cup Quick-cooking rolled oats 
½ Cup each all-purpose flour and whole wheat flour
½ Cup granulated sugar
¼ cup ground flaxseed or wheat germ
1 ½ tsp baking powder
1 tsp baking soda
½ tsp salt
1 ½ cups mashed ripe bananas (about 3 large or 4 small )
¼ cup butter, melted
1 egg
1 cup of frozen blueberries
Preheat over to 375F. Spray 12- cup muffin in a tin with cooking spray and set aside.
Combine oats, both flours, sugar. Ground flaxseed, baking soda, and salt in a large bowl. Mix well and set aside
In a medium bowl, whisk together bananas, butter, and egg. Add banana mixture to dry ingredients and stir just until dry ingredients are moistened. Gently fold in blueberries.
Divide batter among 12 muffin cups. Bake for 20 minutes, or until a wooden pick inserted in the center of the muffin comes out clean. Cool on a wire rack.
About Flax
With a list of health benefits as long as Wayne Gretzky's scoring records, it's no wonder scientists have gone nuts over flaxseed. It's one of the richest sources of Omega-3 fatty acids, a type of fat that your body can't manufacture. You can only get omega 3S from food and, sadly, due to our poor eating habits and even poorer food manufacturing processes. Omega -3s are vitally important to our health. In short, they keep our brains healthy (even preventing depression), they fire up immune systems, ease inflammation and arthritis and help control diabetes. They're also heart-healthy and cholesterol-lowering; they protect against some cancers, make our skin glow, and relieve constipation. Heck, they even help us shed pounds. Imagine! A fat that helps fight the fat! Flaxseed oil is susceptible to heat, oxygen, and light, so keep it refrigerated, don't ever cook with it, and throw it out after six to eight weeks. Add a tablespoon of flaxseed oil to juice, smoothies, and sauces, or uses it to make salad dressings. You can also grind whole flaxseed in a coffee grinder, sprinkle it on oatmeal or cereal, or use it for baking for a mega-dose of fiber.