This week is National Volunteer Week (April 19th – 25th, 2020)! Join us as we celebrate the incredible people who choose to take time out of their lives to volunteer with us. To ALL of our volunteers – we thank you from the bottom of our hearts! 
Marilyn Jorgensen – A BB4CK Core Kitchen Volunteer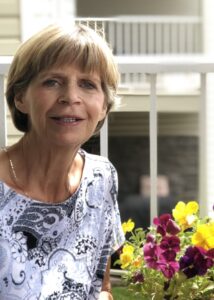 Marilyn started as a Core Kitchen volunteer with BB4CK in January 2018, and volunteers in the kitchen two mornings a week. A day in the kitchen "usually begins with helping to make the hundreds of sandwiches that will be delivered out to the schools that day, then on to snacks which consist of fruit, vegetables, and often an assortment of fresh baked muffins and cookies. And of course, there are dishes to be done and clean-up before we leave. It's a busy, fun morning which goes quickly, with a lot getting done by a great group of volunteers and staff in just a few hours."
After a career and raising a family, she knew that when she retired, she wanted to volunteer. She had always planned to be able to give of her time and to give back. She discovered BB4CK on line and was very interested. "It seemed to be just what I was looking for and it has not disappointed! What struck me from the very beginning was the incredible need for this organization in Calgary. The fact that thousands of children in this city have no lunch on a daily basis was heartbreaking. I am grateful that in some small way I can help to bring not only a sandwich, but a smile to a child's day. I know that for some of them, this may be their only food all day," says Marilyn.
Marilyn's favorite part of volunteering? It's fun! There are fellow volunteers to laugh and chat with and a dedicated staff that never fail to make her feel appreciated.
"I am sad that due to Covid-19 the BB4CK kitchen is closed and the children are not in school," writes Marilyn; "But that does not mean they are not still hungry. I am grateful that the amazing staff at BB4CK are working hard to come up with alternatives and some restaurants have come forward to help feed Calgary's children. I know we will come through this and I look forward to the day we will be back making lunches!" 
We are so fortunate to have volunteers like Marilyn who are inspired to take meaningful action to help feed Calgary's kids. We couldn't do what we do, without you! 
Keep in touch with us on Social: