This week is National Volunteer Week (April 19th – 25th, 2020)! Join us as we celebrate the incredible people who choose to take time out of their lives to volunteer with us. To ALL of our volunteers – we thank you from the bottom of our hearts! 
McKenzie Towne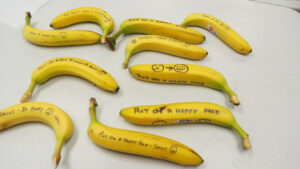 Two years ago this week the Mackenzie Towne Revera Retirement Residence became a part of the BB4CK Family. Under the leadership of staff member Diane; Audrey, Mitsy, Ann and Florence began making lunches every Monday and Wednesday morning for a local school.
Each of the ladies has their own special role in the lunch making process and when Audrey is on sandwiches, weather it be pea butter and jelly or mayo for the Turkey, she makes sure the spread gets all the way to the crusts to ensure the kids will eat them!
This group loves adding a special message to their lunches often by writing messages to students like "put on a happy face 😊" on bananas! The Mackenzie Residence has been one of the hardest hit in our province by Covid-19 and our special message to these amazing volunteers is that we are thinking of you all every day and sending our well wishes as well as our condolences to you all during this time.
We hope that in this time you are still able to "put on a happy face" knowing all the many children you touched through your volunteer time with BB4CK. We look forward to visiting and working with you again soon.
Keep in touch with us on Social: