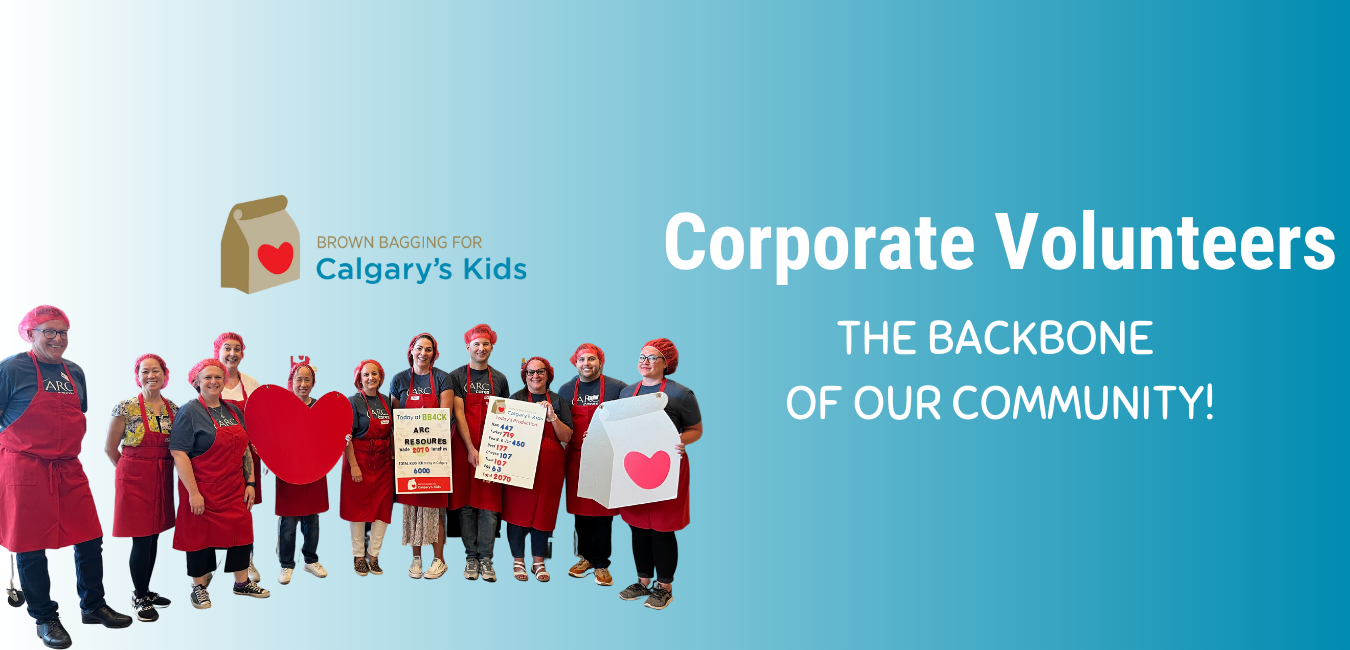 Every week, we are incredibly fortunate to welcome up to
80 volunteers
from various local companies, small businesses, and volunteer clubs. These amazing individuals join forces in our downtown kitchen, with one common goal: to ensure that Calgary kids receive nutritious lunches. The spirit and dedication they bring to our kitchen truly make them the heart of the BB4CK community!
Feeding over 6000 children across more than 230 schools is no small job, and it requires many hands working together. Without the unwavering commitment and passion of our community's corporate groups, we simply couldn't accomplish the important work that we do.
We owe our success to these invested and compassionate teams, who selflessly give their time and energy to make a difference in the lives of our children.
From Monday to Thursday, we host groups of up to 15 people from 7:30 AM to 11 AM, as they enthusiastically prepare the nutritious lunches that are delivered the very same day.
On Tuesdays and Thursdays, we are equally grateful to welcome another group of up to 15 individuals who join us in the afternoons from 12:00 pm – 2:00 pm to bake much-needed, nutritious snacks. From mouth-watering muffins to delectable scones and energy-packed protein balls, these treats are made with an abundance of love from our dedicated groups in our kitchen.
As the school year ends, we are already busy planning our fall/winter Corporate Booking Schedule. If you are interested in bringing your team on board to support BB4CK and participate in a remarkable team-building opportunity, we would be thrilled to have you join us.
Please reach out to Kim@bb4ck.org for more information and to secure your spot.
We cannot express enough gratitude for the incredible support we receive from the Calgary community. As a small team at BB4CK, we know this vital work could not be accomplished without the amazing backing of our fellow Calgarians. Together, we are making a real difference in the lives of our children, and we are truly blessed to have such an extraordinary community rallying behind us.
Join us today, and let's continue to nurture and uplift our community, one lunch at a time.